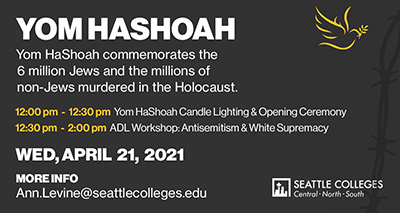 Remembering the 6 million Jewish people and the millions of Non-Jewish people murdered in the Holocaust, the Seattle Colleges will gather virtually at 12PM to commemorate Yom HaShoah, Holocaust Memorial Day with a Candle Lighting and Workshops.
Watch the Welcome and Candle Lighting below. Video of the workshops is not available.
This is a hard day for many of us. Please know that whether or not you choose to attend, you are recognized and loved.
To our beloved allies, we invite you to join us in solidarity, to learn and remember and grieve with us as we recommit ourselves to justice. We honor and recognize the bravery of all those who fought for and defended Jewish people through history, and all those who continue to do so today.

We recognize other communities who have survived attempted genocides, or who have suffered at the hands of white supremacy before, during, and after the Holocaust. We extend a heartfelt invitation to you, and hope you find strength and solace here.
For more information on the event, visit the Holocaust Center for Humanity.