This year's event to celebrate the life of Dr. Martin Luther King, Jr. will be streamed online (link below) and broadcast on SCCtv (channel information below) beginning at Noon Friday, January 15, 2021.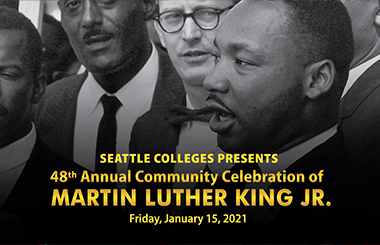 The event's music will be provided by DaNell Daymon and Greater Works. For more information on the event, visit the Seattle Colleges website.
BROADCAST INFO
The entire Seattle Colleges 48th Annual Community Celebration of Martin Luther King, Jr. will be broadcast live at noon, Friday, January 15, 2021. It will be repeated Saturday, January 16, 2021 at 7pm, and every Saturday at 7pm through Saturday, February 27, 2020. SCCtv broadcasts in Seattle on Comcast Ch 28, Wave Ch 19 and Century Link Ch 8005/Ch 8505 HD.
ON DEMAND
The event is availabe on-demand below. A discussion with featured speaker, Matías Valenzuela, PhD, the Director of Equity and Community Partnerships for Public Health—Seattle & King County, is available HERE.

WATCH PAST MLK CELEBRATIONS