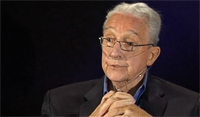 We at SCCtv are greatly saddened by the news of the passing of George Corcoran. George was one of the founders and former president of the Seattle Community College District. George was recognized as a leader not only by his colleagues in the colleges, but also by the community.
The Seattle Times published an article honoring George's service to our area.
We are honored to have been able to interview George in the spring of 2011. He and Art Siegal, a former Seattle Community College District trustee, discussed the origins of what would become the largest community college district in the state.
?
{jwplayer}&flash.image1=http://www.scctv.net/images/v15/stories/george1.jpg&playlistsize=250&height=320&flash.file1=George_Corcoran.mp4&flash.streamer1=rtmp://fms.scctv.net/scctv&flash.provider1=rtmp&flash.title1=Interview&flash.description1=George Corcoran discusses the creation of the Seattle Community College District. program&title1=Interview segment Program&html5.description1=George Corcoran discusses the creation of the Seattle Community College District. program&html5.file1=http://scctv.net/play/?p=scctv&f=George_Corcoran.mp4&/playlist.m3u8{/jwplayer}